Career Opportunities
Part-time Residential Support Professional
Family Home Provider
Community Fall Harvest Festival

Bottle Drive
Got a lot of empties?  Why not drop them off at Community Living South Muskoka and help support a 4-day camping experience to Arrowhead Provincial Park for people with developmental disabilities? We can also pick them up for you – details below.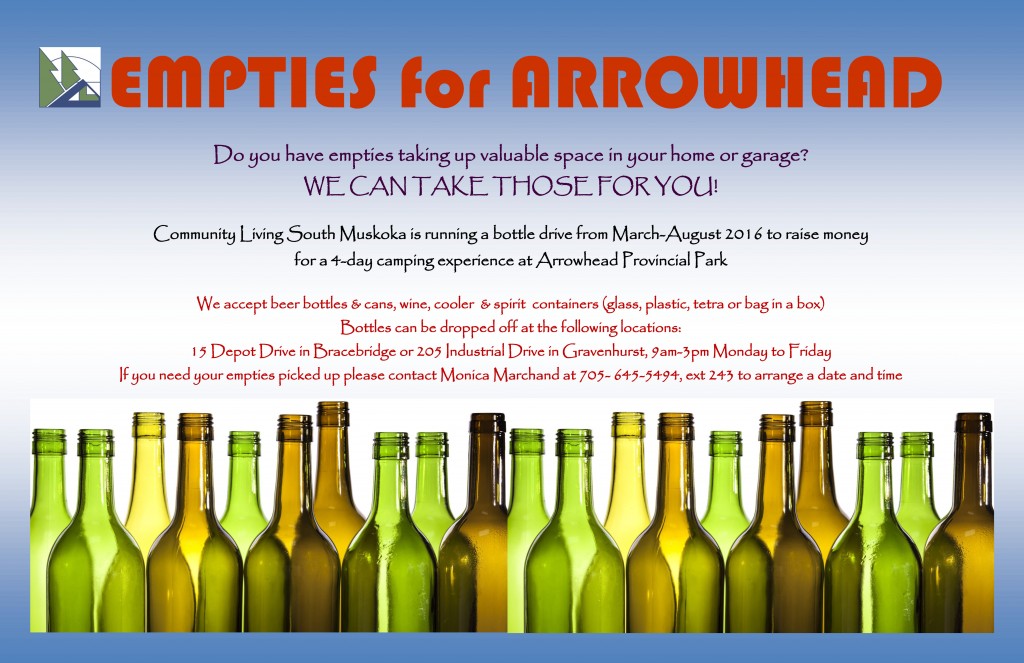 A Message from the CEO
We would like to extend our sincere appreciation to everyone who helped to make our Community Living Celebration night such a great success. Partnerships were the key to making the night, and a special thank you is extended to the Royal Bank Bracebridge Celebrity Servers for giving their time and generous donation of $1000.00 to the agency. We would also like to extend a special thank you to Boston Pizza for hosting the event and donating 10% of food sales for those who came out to support the agency.
Community Living Month is about celebrating community participation, inclusion and recognizing everyone's unique strengths and gifts.  We were thrilled to have some great talent at the event and would like to recognize all of the performers for volunteering their time.  It takes a great deal of courage to get up in front of a large crowd and perform, and the IDOL singers did an excellent job of making this look easy!
Finally, a special thank you goes out to all of you who attended. It was wonderful to see so many families, staff, volunteers and friends who came out to make the night a success. We are about community, and I think that the night demonstrated how lucky we are to live in Muskoka!
Krista Haiduk-Collier
CEO
A Message from your Board Chair and CEO
It finally looks like spring is here to stay and with the spring comes May and Community Living Month!  It is a time when we can celebrate
together the wonderful accomplishments people have made. From going on life changing trips to being valuable members of our community, there is no limit to what people who have developmental disabilities can achieve.
Your Community Living South Muskoka (CLSM) has been moving forward, focusing on our strategic goals, including being a leader in opportunities to create innovation. We have participated in provincial consultations to address the safety and security of vulnerable adults and improve Host Family policies; we are partnering with local agencies to improve local service delivery; and within the agency we have been in the process of redesigning to better meet your needs and be person centred to maximize everyone's potential. We look forward to discussing this further with you as we attend team meetings over the months of May and June.
We would like to extend our sincere appreciation to the community for all the support! The Leap Year fundraiser for our Accessible Playground and Summer Youth program held at LIV Muskoka was a huge success. A special thank you is due to the exceptional musical talent, all the wonderful donations by the community, the staff who volunteered hours of their personal time and LIV for their generous donation of the venue and proceeds.
Finally, there are two very special events that we hope you can attend.  First, on MAY 18th we would like to invite you to join us in celebrating Community Living Month at the Bracebridge Boston Pizza. Special thanks go to RBC Royal Bank who is sponsoring this event.  10% of all meal sales between 5 and 8pm on May 18th will be donated to CLSM.  To make the evening even more special our CLSM Idols will be performing throughout the evening!
Then, we are thrilled to announce the official Grand Opening of the Accessible Playground on JUNE 14th.  Please join us.  Watch for further details on both of these events.
Gord Haugh, Board Chair
Krista Haiduk-Collier, Chief Executive Officer
Excerpt from CLSM May 2016 newsletter.  To read the full newsletter, click here:  http://www.clsm.on.ca/wp-content/uploads/2015/12/May-2016.pdf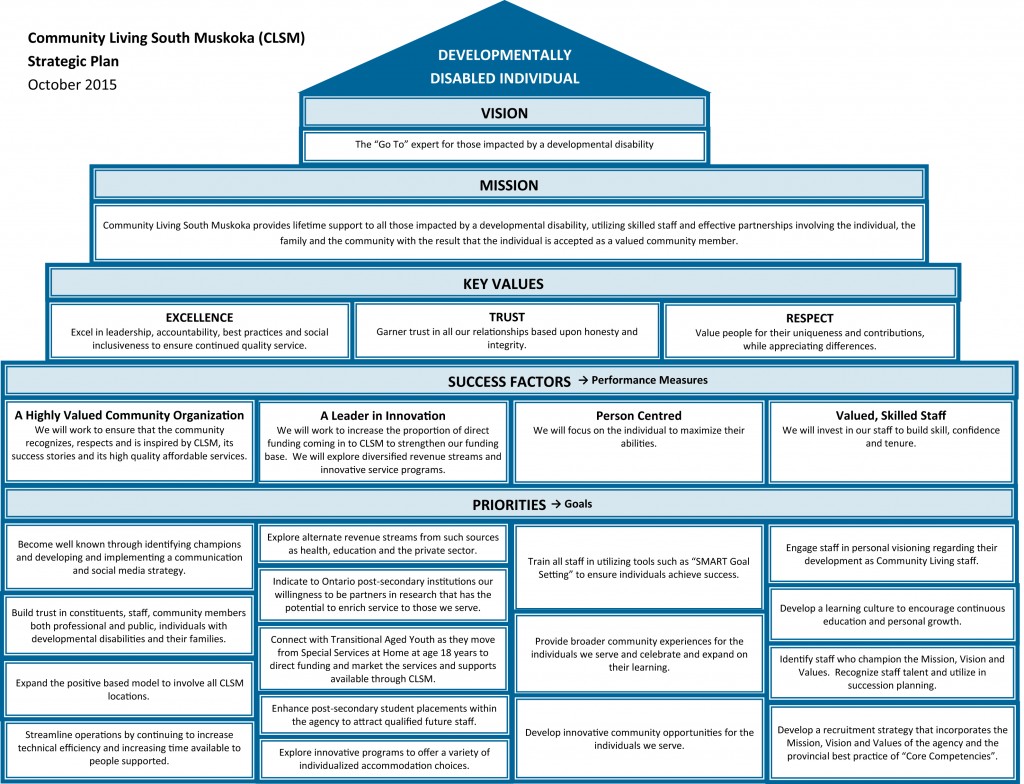 Morrison Meadows
In 2007 Community Living South Muskoka purchased a 35 acre farm on the outskirts of Bracebridge called Morrison Meadows.  We wanted to create employment opportunities for the individuals we serve, and become an outdoor recreational space for our community to enjoy and see individuals with a developmental disability as capable, friendly, teachers, partners and community leaders.
Morrison Meadows is intended to enrich the lives of Muskokans and visitors to the District by providing opportunities to enjoy farming, nature, and outdoor recreation activities.  To learn more visit the Morrison Meadows website or watch our YouTube video
About Community Living South Muskoka
Community Living South Muskoka is a registered charity that provides supports to individuals with developmental disability and their families commencing at the age of 2 through to their senior years. Services are offered in South Muskoka, from SevernBridge and Port Severn/Honey Harbour to the South and from Mactier to midway between Bracebridge and Huntsville in the North. Community Living South Muskoka is a member of OASIS (Ontario Agencies Supporting Individuals with Special Needs), a provincial organization representing 173 agencies that provide supports to individuals and families in the developmental sector.
Community Living South Muskoka is committed to enabling individuals to meet their personal goals and live and participate actively in the community. Working closely with our families and with the support of our funders, the Ministry of Community and Social Services, Ministry of Children & Youth Services, and the District Municipality of Muskoka, we have tailored supports and services to meet the individual needs of the people we support as well as taking into consideration the needs of their caregivers.
Vision
The "Go To" expert for those impacted by a developmental disability.
Mission
Community Living South Muskoka provides lifetime support to all those impacted by a developmental disability, utilizing skilled staff and effective partnerships involving the individual, the family and the community with the result that the individual is accepted as a valued community member.
Key Values
Excellence
Excel in leadership, accountability, best practices and social inclusiveness to ensure continued quality service.
Trust
Garner trust in all our relationships based upon honesty and integrity.
Respect
Value people for their uniqueness and contributions, while appreciating differences.
Success Factors
A Highly Valued Community Organization
We will work to ensure that the community recognizes, respects and is inspired by CLSM, its success stories and its high quality affordable services.
A Leader in Innovation
We will work to increase the proportion of direct funding coming in to CLSM to strengthen our funding base.  We will explore diversified revenue streams and innovative service programs.
Person Centred
We will focus on the individual to maximize their abilities.
Valued, Skilled Staff
We will invest in our staff to build skill, confidence and tenure.
Your privacy is important to us.  Please feel free to view our privacy policy below in pdf format.
Privacy Policy